When it comes to K9 Security Mauritius, we are the industry leaders, with a team of highly qualified and trained K9 dogs and dog handlers.
Our K9 security service is available 24 hours a day, 7 days a week, 365 days a year, making us the security business to call if you need the best security dog services in Mauritius. At all types of events and social gatherings, K9 Dogs are a powerful presence in combating anti-social behaviour and crime.
What Can We Do With Our K9 Security?
In reality, K9 security is great for protecting commercial and residential buildings, functioning as a deterrent against material, fuel, and plant machinery theft, as well as preventing vandalism, arson, and security breaches, robberies and attacks on employees keeping away unwelcome intruders, or regulating protestors are all examples of security breaches into buildings.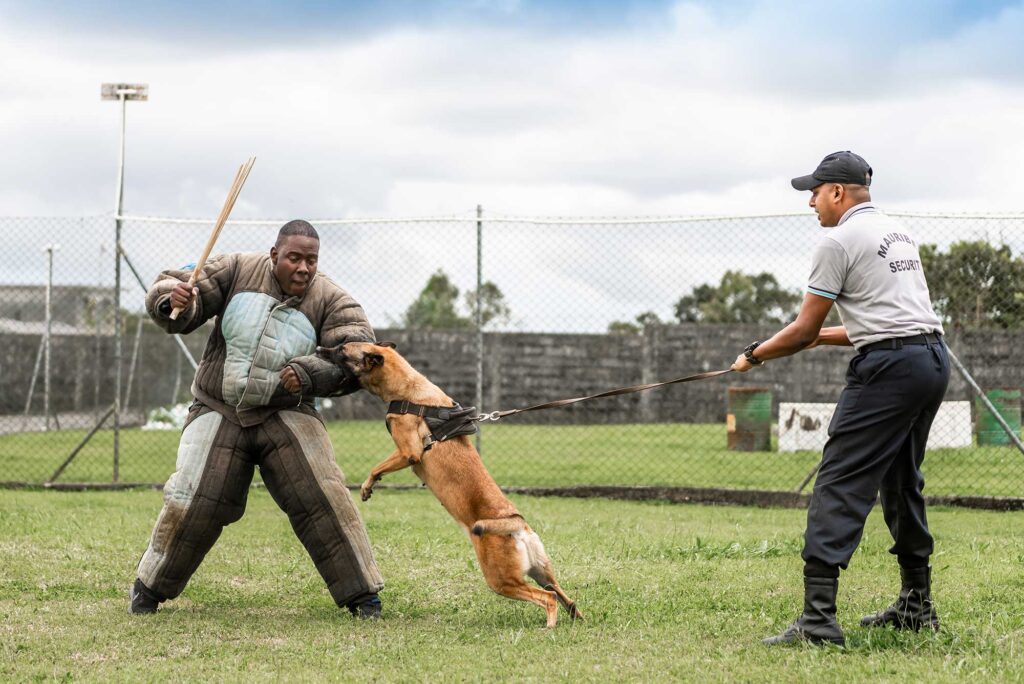 Dogs on Patrol
Patrol dogs are perfect for securing perimeters and guarding facilities and broad open spaces against invaders. They are also taught to defend their handler as part of their job. German Shepherds and Belgian Malinois are the most common patrol dogs because they are obedient, naturally protective, and fearless. Due to their high degree of intelligence and awareness, Rottweilers and Dobermans make excellent police dogs.
Detection Dogs
Detection Dogs are dogs that are trained to find hidden objects. Sniffer dogs are trained to search for and detect illegal substances such as narcotics, guns, and explosives that may be hidden in cars, open areas, or buildings using their senses. Springer Spaniels and Labrador Retrievers are two preferred breeds for detection work because of their keen senses of smell, which enable them to detect narcotics, weapons, and explosives.
Protection Dogs
Some people prefer a security dog to manned guarding or a personal bodyguard because the latter can be extremely intrusive. Protection dogs are taught to defend people from intruders, burglars, and attacks, and they are an excellent method to secure yourself and your family. Protection dogs have been extensively taught to be obedient and social among family members as well as child-safe. When it comes to personal protection, a variety of breeds are utilized, but German Shepherds are usually a favourite among dog handlers since they are inherently protective of their owners.
K9 Attack dogs
Attack Dogs K9 attack dogs are often utilized in operations by the armed services and police, and they are responsible for protecting their handlers against assailants. These canines have been trained to attack cues in order to subdue a target without injuring it. Attack dogs are bred to work in hostile circumstances, where they must be tolerant of gunfire, crowded environments, and other loud noises and distractions.
What We Offer
When it comes to K9 security in Mauritius, we provide a comprehensive and highly professional service that includes a team of top-notch K9 canines and skilled dog handlers. We offer mobile dog patrols and on-site dog patrols, as well as patrol dogs and static dog guards. Our professional and pleasant security team will be able to advise the best plan moving forward, whether it's security for a specific event or properties that require continual protection.
Qualified K9 Security Staff
All our staff are qualified to the latest standards, whilst we boast elite K9 handling teams, always on hand to provide a professional and commendable service.
Please contact us if you are interested in our K9 security services in Mauritius.