Celebrating 15 YEARS
of safety in Mauritus

Discover the company MAURIBEL SECURITY
Throughout the process of service delivery or deployment, we are 24/7* ready!
We advise, we train, we breed, we secure
and above all,
we walk miles for your safety.
VOM HAUS MAURIBEL SERVICES LTD is a privately owned Mauritian company commonly known as MAURIBEL SECURITY.
MAURIBEL started its operations in 2006 with imported dogs from Belgium and was the first company to set up SPECIALISED DOG HANDLING SECURITY SERVICES on the island. 
The set-up of our Dog Handling specialized service was only possible because of the support and technical assistance provided by VOM HAUS SANTO of Belgium in the training of our trainers and Dog Handlers and their active participation in the set- up of the initial operations, client service and best practice. Our collaboration with VOM HAUS SANTO ended in year 2011 when MAURIBEL was confident enough to manage and train its own staff and fleet of dogs by its in-house trainers.
MAURIBEL SECURITY up to now relies on the expertise and advice of VOM HAUS SANTO in the procurement of strong and trained dogs of the best breed.
MAURIBEL SECURITY is now a medium-sized company with more than 60 fully trained, intelligent, agile and responsive dogs and over 135 employees consisting of over 70 fully-trained DOG HANDLERS as well as over 65 fully-trained SECURITY GUARDS.
MAURIBEL SECURITY is present on more than 50 sites across the Island consisting of mainly hotels, residential complexes, commercial and industrial properties, stores, construction site, Public Bodies And Cash Offices.
Over the years, MAURIBEL SECURITY has also developed expertise in detecting and evaluating security risks and would carry out on all its new sites, thorough assessments with the aim of making appropriate & sustainable recommendations for security enhancement and in the preparation & implementation of the SOP (Standard Operating Procedure).
We have also realized over the years that for most sites on the Island the most effective SECURITY SOLUTION is the right combination of 
(a) DOG HANDLING (K9-Service)
(b) MANNED GUARDING
(c) TECHNOLOGIES. 
MAURIBEL SECURITY is committed to providing professional Security Services that meet and satisfy customer expectations through experience, expertise, reliability and consistent high quality.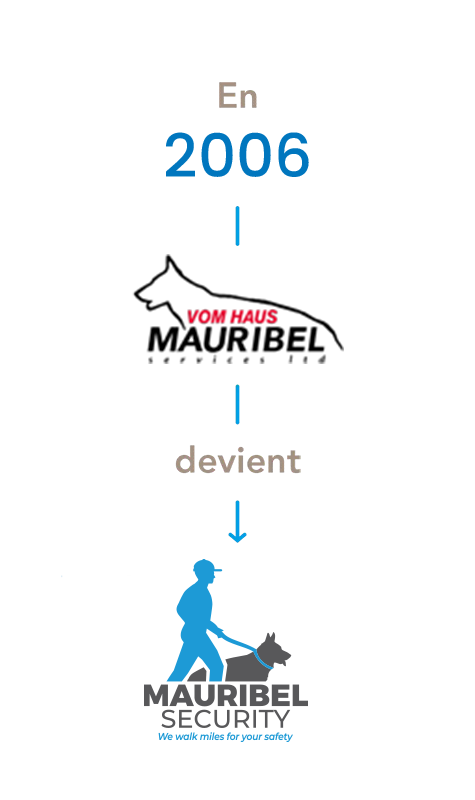 MAURIBEL SECURITY processes and transfers your personal data to the dealership in your sector to respond to your request for a quote or to make an appointment. This processing is carried out on the legal basis of the legitimate interest, namely the commercial development of the MAURIBEL SECURITY brand. Your data may also be processed to send you commercial prospecting on the legal basis of your consent. You have a right of access, rectification, opposition, as well as a right to erasure, limitation of processing and portability which you can exercise by writing to the address info@mauribel.comFor more information, we invite you to consult our privacy policy